CheckPageRank.net SEO Office
Online SEO Software and SEO Tools
Optimize and Promote Your Site Easily with the Most Advanced SEO Tools
Includes Weekly Website Auditor, Keyword Research Tool, 24/7 Web-accessible SEO Reports, Emailed SEO Reports, SEO Best Practices Checklists, Search Engine Submission Tool, Rank Checker, Web Analytics, and Social Buzz Tracking.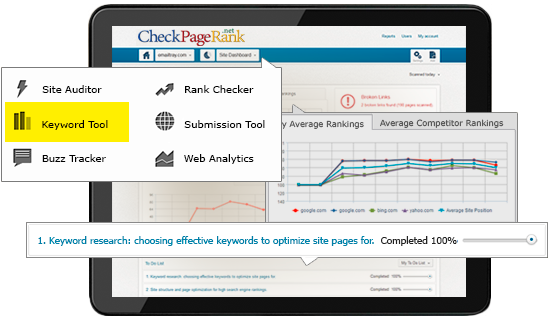 SEO Office is CheckPageRank.net's branded web-based SEO software application that provides you with a comprehensive set of tools for website optimization and promotion. It meets the demand for SEO with all possible consumers - from webmasters and standalone SEOs to large SEO and marketing agencies. Here's a reference list of all of the important SEO Office tools and features.
Site Optimization Tools

-Weekly Website Auditor
-Online Keyword Tool


Reporting

-24/7 Web-accessible SEO Reports
-Emailed SEO Reports


DIY Features - Checklists

-Search Engine Optimization
-All SEO Checklists
-Keyword Research
-Search Engine Submission


Visibility Monitoring Tools

-Rank Checker
-Web Analytics
-Buzz Tracking

How do the online SEO tools work?
For a new site, CheckPageRank.net SEO Office is an SEO self-service application that minimizes user efforts. The site optimization and promotion work can be completed in three steps:
1. Selecting an SEO Task List
Currently, we have seven Task lists depending on the website promotion stage that your site is currently in, your site type and the goal you are pursuing. Define the promotion stage you are in and then move to an easy-to-follow SEO checklist for your site's optimization and promotion. Every task is guided - you'll see helpful tips on why the task is important and how to perform the task successfully.
2. Completing an SEO Task List / Stage
The Task list refers to the SEO tools required to complete the suggested tasks. The Online Keyword Tool is used to gather up the most appropriate words and phrases for your site's keyword optimization. Website Audit and SEO Analysis (the Search Engine Optimization Tool) is used to get on-the-page optimization advice. The Search Engine Submission tool submits your site to the major local and specialized search engines, directories, and communities. After you've conducted a task, it's marked as done.
3. Measuring and controlling optimization and promotion results
CheckPageRank.net SEO Office opens with an SEO Dashboard that shows the most important metrics characterizing your website performance. You can feel the pulse of your site; you can see if your site's search engine rankings, backlinks, traffic, integrity and social mentions are in accordance with your best expectations. You can get more detailed information in the SEO Reports that you can generate after loading each of the tool's pages.
For an established site, task priority may be different than with a new site. The site performance control function is more likely to prevail, and the order of actions will be as follows:
1. Controlling website performance and quality.
2. Tracking social mentions.
3. Selecting an advanced promotion stage to apply new promotion techniques.
4. Completing an advanced SEO Task List.
5. Measuring and controlling promotion results.
CheckPageRank.net SEO Office runs all of the site performance monitoring reports automatically in accordance with our scheduled Service Plan.
Ready To Get Signed Up? $49/month
SEO Dashboard: Take an Overview of your Project Performance

The CheckPageRank.net SEO Office Dashboard has two main sections for viewing active tasks and for monitoring your website performance.
The SEO Checklist (To Do), the Buzz Tracker (Buzz) and the Broken Link Checker (Auditor) tell how many active tasks you have, i.e. how many SEO and web promotion tasks remain unfinished, how many discussions related to your business are going on (where you can participate and mention your brand), and how many technical errors and SEO blunders have been found on your site.
In the Monitoring Center of the Dashboard you have numbers and visual indicators expressing your website's competitive position: traffic, search engine rankings, and backlinks.
Website Summary: Follow your Website's Progress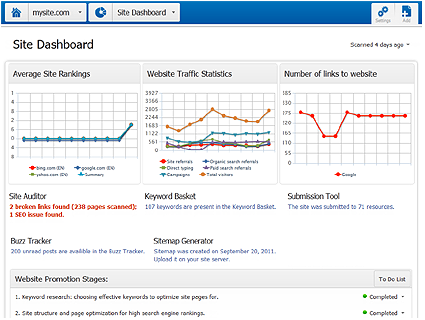 You can descend onto the website level and view the SEO and site performance metrics in detail.
The Ranking and Web Analytics give visual evidence of your site's progress.
Site Auditor will count mistakes found on your site and the Buzz Tracker will inform how many discussions mentioning your brand words are running online.
The Site Summary Dashboard provides direct access to the various tools, each with particular reports and settings. The Site Summary Dashboard lets you view and access SEO Checklists.
SEO Checklists and Online SEO Tools
CheckPageRank.net SEO Office provides lists of tasks categorized by stage, the nature or the object of promotion efforts: Keyword Research, On-page and Site-wide Search Engine Optimization, Search Engine Submission, Blog Promotion, Social Media Networking and Paid Advertising checklists.
All of the Task Lists are frequently updated - we add new useful promotion techniques as we find and test them.
Your SEO Checklist is your working document where you can remove (hide) or mark tasks as completed.
If a recommended task requires a tool to complete it, and we have that feature in CheckPageRank.net SEO Office, we will point you to the appropriate online SEO tool.
Currently, we have the three most demanded search engine optimization tools.
The Keyword Tool
for suggesting the best keywords related to your market niche. We use the Google API to request them, so you may be sure that you will receive keywords from the most reliable provider of search words.
The SEO Audit/Analysis Tool, for on-the-page site optimization, analyzes your pages' source code and gives you an overview of page elements that must be optimized for high search engine rankings.
The Search Engine Submission Tool
submits your website information (website and product listings, articles, Sitemaps, blogs, etc.) to 200+ global, local and specialized search engines, directories and communities in automated and manual modes.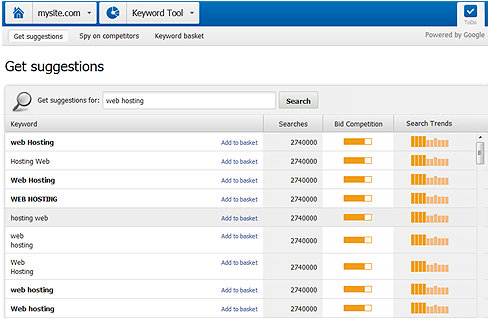 Tools for Site Efficiency Tracking
Every webmaster and website owner must monitor his or her website performance indicators to improve site results - such as targeted keyword positions, backlink popularity and visitor conversions. Then changes can be planned.
CheckPageRank.net SEO Office lets you do this with exceptional ease - just take a few minutes to set up the SEO tools and then receive emailed reports - or visit CheckPageRank.net SEO Office often in order to view the most recent information on the Dashboard.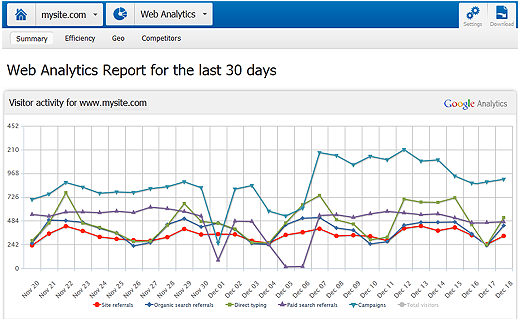 Web Analytics Reporter: The Web Analytics Reporter is the entry point to your web analytics charts and graphs, and also a place where social media engagement analytics meet with your visitor traffic stats in an effective mix of useful data.
CheckPageRank.net SEO Office Rank Checker creates the most advanced and accurate Ranking Reports. To build a complete picture of your website performance, you need to know how your site ranks for the targeted keywords across hundreds of global and local search engines. This search engine tool is the safest in the industry (you are not querying search engines from your own computer).
SEO Reports: Scheduling and Sharing
All of the site performance monitoring and quality checking tools can run reports on schedule.
The reports can be shared in two different ways: 1) the reports can be emailed to you; 2) the reports can be published on the web you can be given access to those reports.
Optimize and promote your site for tons of the most targeted traffic. Monitor your site performance. Improve results.
CheckPageRank.net SEO Office combines state-of-the-art search engine tools and reports. You can control your website's performance, thus getting the answer to the question "Is your site performing well?" You can use SEO checklists and tools to optimize your site for search engines and human visitors, and promote your site in social media; thus getting the answer to the question "What else I can do to make my site even more successful?"
Ready To Get Signed Up? $49/month